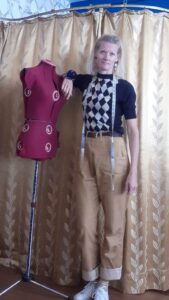 White label services and partnerships
We work with a number of hand-picked small UK businesses who share our ethos, delivering unrivalled after-care service for clothes repairs and alterations, and have developed models of implementation that works for different styles of business set-ups.
If you would like your small business to partner with us, or to find out more, see our Linked In page or email Nanna on nanna@splendidstitches.co.uk
Sustainable and Circular Business Consultancy
Our Founder Nanna Sandom offers consultancy and training in circularity and sustainability for small vintage and sustainable retailers and brands.
Her expertise spans circularity and sustainability analysis, advice and strategy drafting, over hands-on implementation and training, as well as branding, communication and marketing strategy and implementation.
Nanna is a Chartered Marketeer with 15 years experience in marketing, branding and communication both in-house and agency side, and has spent the past decade at the forefront of sustainability, waste reduction and clothing post-purchase aftercare. With first-hand experience of running a small business she offers a tailormade solution, and works in partnership with the retailer on delivering and communicating a sustainable post-purchase customer experience.
We can help with:
Impartial analysis of how and where to improve sustainability and circularity
Advice and suggestions how best to implement sustainable change
Implementation of sustainable and circularity initiatives
Marketing and communication of values and initiatives