Welcome to Splendid Stitches, London's leading specialist vintage clothes alterations and repairs service, with a specific focus on clothes from the 1920's to 1970's, along with vintage reproduction.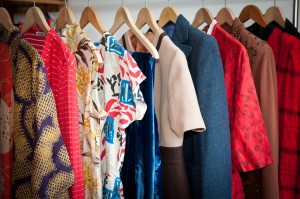 Our expertise spans alterations such as re-sizings or shortening hems on vintage dresses, over repairs such as changing broken zips, fixing rips and patches, to replacing old linings, or refashioning something new out of something old. We carry out extensive vintage wedding dress alterations and repairs, and after-the-wedding wedding dress restoration and cleaning. We can advise on cleaning of your precious pieces, recommend drycleaners, and manage the restoration of vintage furs.
Our specific focus on vintage means we know and understand that each item is unique and possibly rather delicate, and we treat each garment with utmost care and respect – as vintage clothes lovers ourselves, we know how important each individual piece of clothing is.
We pride ourselves on excellent workmanship and a personal service which is specifically tailored to each particular project, whether restoring a delicate 1930s silk gown, resizing a WWII wool suit, or replacing zips in 1960s mod dresses.
We operate by appointment only in order to allow sufficient time and privacy for a personal fitting and mutual assessment of the best options for the individual garment: please use the contact form in the 'Contact Us' section to ask for an estimate, or book an appointment via our online booking system.
We are conveniently based for London public transport in Hastings Street in Bloomsbury near King's Cross St. Pancras stations. We have the privilege of working out of Atelier Tammam's beautiful and luxurious studio, which allows for a relaxed environment for consultations and fittings.
Why use a vintage specialist?
You may feel tempted to pop into your local dry cleaners or use a standard dressmaker for your alterations or repairs, but if your garment is true vintage and pre-70's the fabrics, construction methods and finishing is very different to modern, mass-produced clothing. It therefore makes sense to use someone with experience of the construction methods and fabrics used in vintage, and – most importantly – someone who understands how your garment may have changed over time. About half of the items we see have been altered in the past, which will need careful undoing or redoing. We also always use a hem marker for shortening skirts, coats and dresses to ensure consistent length from the floor, rather than relying on taking the same amount off the bottom all the way around, especially important for vintage where parts of a garment may have stretched more than others over time.
Splendid Stitches is the brainchild of Nanna Sandom, a lifelong lover and wearer of vintage, who learned to sew and alter clothes in her native Denmark. Starting out running alterations and repair booths at vintage fairs in London, Splendid Stitches now works with a number of prestigious London vintage boutiques and have loyal clients all over the UK.
Nanna also loves to share her knowledge of vintage clothes and offers tips and advice on Twitter, Instagram and Facebook, so please do join us there too.